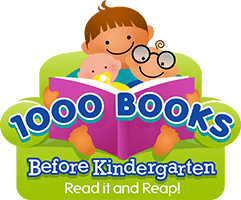 The 1,000 Books Before Kindergarten Program is a fun, free program that helps prepare your little one for Kindergarten. Reading aloud to your child will help strengthen language skills and build vocabulary, not to mention provide quality bonding time.
While 1,000 books may seem intimidating, it's actually very simple. 1 book per night = 365 books in one year, 730 in two years, and 1,095 in three years. Or, 3 books per night = 1095 books in one year. To make it easier: repeat books count; storytime books count; books read to your child by grandparents, siblings, etc count.
How To Participate
Stop in at one of the four Brown County Public Library branches to pick up your first Reading Log (with 100 slots)
Once filled, you and your child can take the log back to the library to receive a small prize and the next Reading Log
Repeat until you reach 1,000 books
Return to the library with your final completed log so your child can receive their Certificate of Completion
Celebrate!