Cowpokes & Coffee meets on the 3rd Thursday at 9:30am.
Book: The Devil You Know (A Stoneface Finnegan Western)
Author: William W. Johnstone & J.A. Johnstone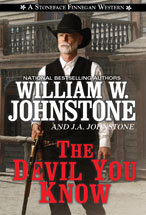 Former Pinkerton Man, now saloon owner Stoneface Finnegan and his new partner are busy renovating The Last Drop Saloon. Then actor Giacomo Valucci comes to town to stage Finnegan's very real death. Finnegan 's gut tells him that someone's put a price on his head. Is it one of his cutthroat enemies from his Pinkerton days? Can he keep Valucci from lowering the final curtain on him? Find out in popular author William W. Johnstone's The Devil You Know.
Pick up your copy today at the Sardinia Library. Or check the free Hoopla app for eBook or audio book versions.
Cowpokes & Coffee, Sardinia Library's western book club, meets Thursday, October 20, 2022 from 9:30am-10:30am.
Coffee is provided along with good company and lively discussions. Call 937-446-1565 with questions.