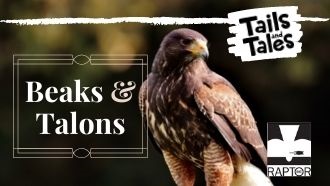 Birds of prey know they're cool! Now let RAPTOR Inc. (raptorinc.org) show you why as they present "Beaks & Talons" featuring 3 live avian ambassadors. Get up close and personal with the birds. See and learn about their adaptations making birds of prey supreme hunters of the sky. Learn about raptor diets, habitats and nesting habits, as well as their role in the food web. Raptor artifacts (such as wings, feet, pellets, etc.) will be available for touching and raptor vocalizations will be played.
Call Sardinia Library with questions at 937-446-1565 and to register. Space is limited; registration is required.
*There's also a second chance to see "Beaks & Talons" at Fayetteville-Perry Library on Wednesday, July 7, 2021, at 6:00pm.
Add this event to your calendar
Add to Calendar
2021-06-14 17:30:00
2021-07-31 17:10:12
Beaks & Talons at Sardinia Library
https://browncountypubliclibrary.org/node/6246/printable/print
Sardinia
Brown County Public Library
laura@oplin.ohio.gov
America/New_York
public